January 2020 was a particularly difficult month for the aviation sector. Ukraine International Airlines Flight 752 was shot down shortly after takeoff from Tehran Imam Khomeini International Airport causing the death of all 176 passengers and crew but also prompting international airlines to cancel or reroute their flights in Iranian and Iraqi airspace.
The ongoing coronavirus outbreak is heavily affecting air travel from/to and within China. Some international airlines have already suspended all their flights to China. Extensive health screening measures in most of the international airports are also affecting operations.
TOP INCIDENTS IN JANUARY 2020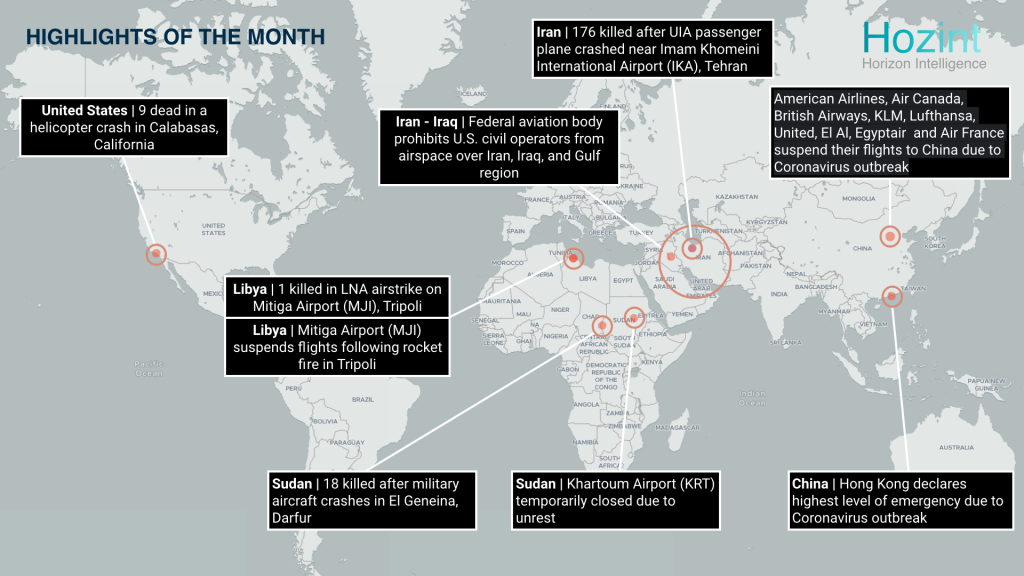 Iran | 176 killed after UIA passenger plane crashed near Imam Khomeini International Airport (IKA), Tehran
Sudan | 18 killed after military aircraft crashes in El Geneina, Darfur
Libya | 1 killed in LNA airstrike on Mitiga Airport (MJI), Tripoli
Iran – Iraq | Federal aviation body prohibits U.S. civil operators from airspace over Iran, Iraq, and Gulf region
Sudan | Khartoum Airport (KRT) temporarily closed due to unrest
Libya | Mitiga Airport (MJI) suspends flights following rocket fire in Tripoli
United States | 9 dead in a helicopter crash in Calabasas, California
China | Hong Kong declares the highest level of emergency due to the Coronavirus outbreak
American Airlines, Air Canada, British Airways KLM, Lufthansa, United, El Al, Egyptair and Air France suspend their flights to China due to the coronavirus outbreak
TIMELINE OF AVSEC REPORTS WITH REFERENCE TO THE CORONAVIRUS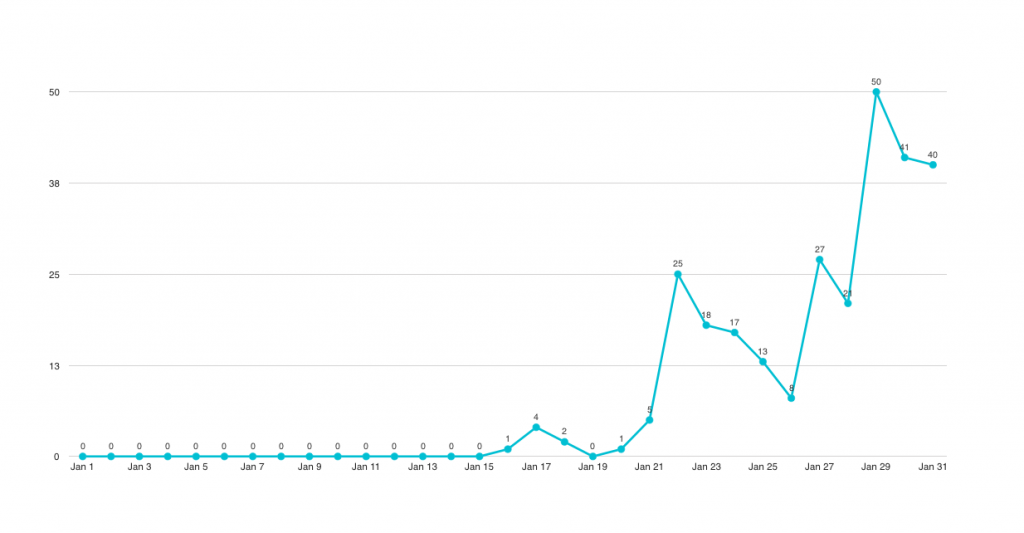 ---
Hozint's threat intelligence solutions combine human and Artificial Intelligence to help companies identifying threats to their security and business continuity.
Schedule a live demo with our team now!