After a couple of intense weeks of the campaign, Gustavo Petro and Rodolfo Hernández appear tight in most opinion surveys, with an advantage of no more than 2%, which is within the expected error margin. As of June 12, the exit polls suggest a 47.2% of votes in favor of Petro and 46.9% in favor of Hernandez (ref).  Some other surveys show the opposite relation.
The final standoff will be decided by indecisive electors within certain regions of the country and by each candidate's capabilities to mobilize supporters within their strongholds. Hernández's pivot revolves around:
– The Eje Cafetero region: composed of the departments of Risaldas, Quindío, Caldas, and most of Antioquia, northwestern Tolima, and north and eastern Valle del Cauca;
– Central-Eastern (Centro Oriental): which includes the departments of Santander, Meta, Norte de Santander, Boyacá, and Cundinamarca. Recent surveys indicate he would win with around 60% and 62%, respectively (ref). These areas comprise also some of the most densely populated cities in the country, such as Medellín, Cali, Bucaramanga, and Cúcuta.
On the other hand, Gustavo Petro's strongholds are:
– Bogotá (54%);
– Atlantic Coast (61%): composed of the departments of Atlántico, Bolívar, Magdalena, La Guajira, Cesar, Córdoba, and Sucre;
– Southwest region (61%): which includes Caquetá, Cauca, Huila, Meta, Nariño, Putumayo, parts of Tolima, and Valle del Cauca.
Analysis
Horizon Intelligence's data indicate there has been a 106% increase in the number of victims between the last quarter of 2021 and the first of 2022 due to guerrilla-related incidents in Colombia, which indicates an increasingly challenging security environment. The areas with the highest occurrence are the departments of Norte de Santander, Antioquia, Santander, Cauca, Arauca, Meta, and Caquetá, which match most of Hernández's strongest regions.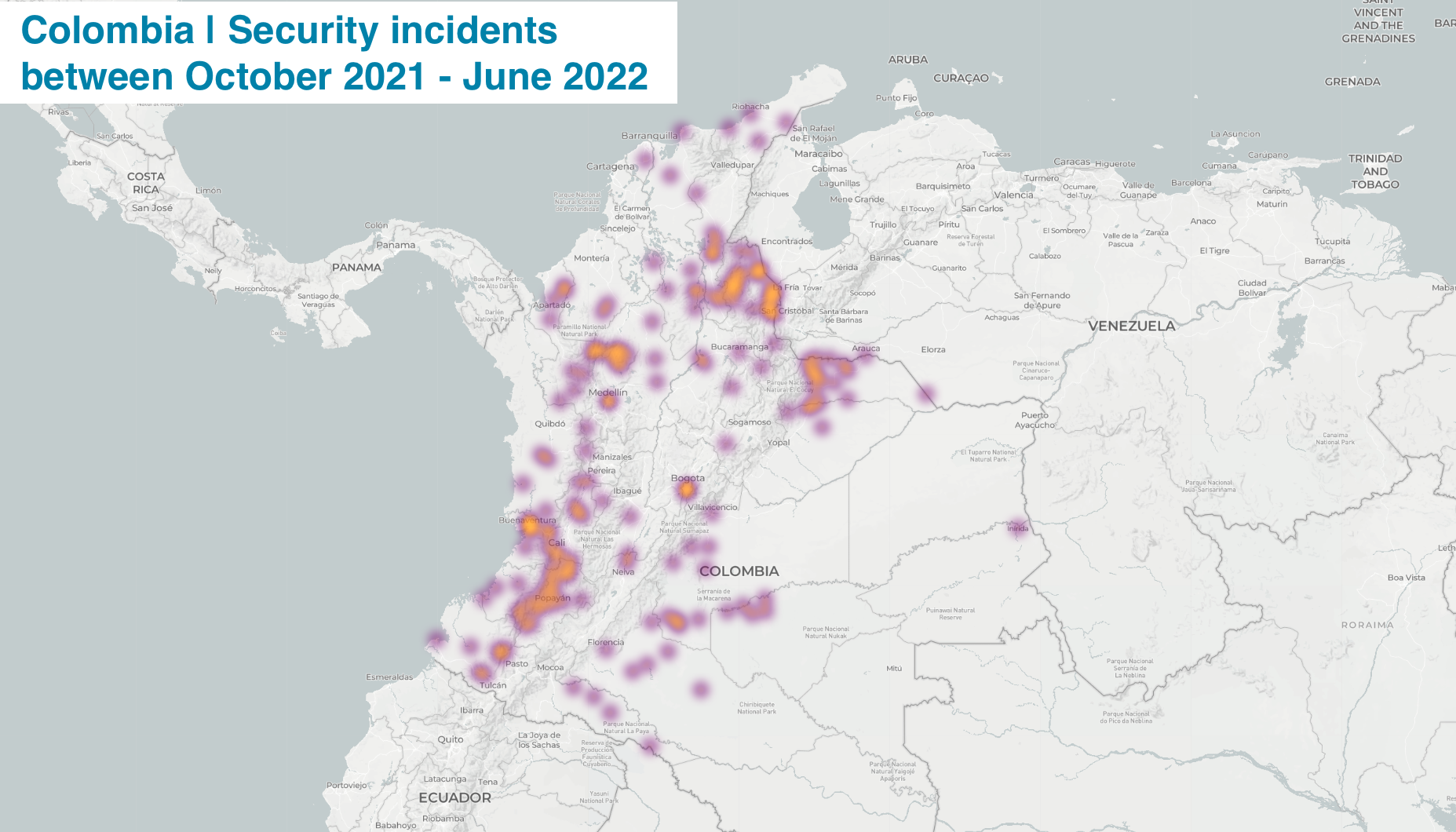 As the day of the election approaches (June 19) and the difference between Petro and Hernández gets narrower, incentives for insurgent organizations, especially Clan del Golfo, FARC, and ELN, may end up in attacks or operations such as the armed strike (Paro Armado), in an attempt to bend the result by voter intimidation, especially in areas where Hernández has more support than Petro.
Why would the guerrillas support Petro? Petro himself was a militant of the extinct M19 guerrilla and has been linked with the ELN guerrilla in the past, during the election of 2018, has also endorsed by the demobilized FARC leadership (ref), and has promoted the notion of a "social pardon" to finalize the persistent Colombian conflict. In conclusion, there's strong ideological proximity between Petro and the guerrillas, even though they may disagree on their political methods.
The left has now greater chances than ever before of winning a presidential election with Petro's candidacy, and despite the active guerrilla groups have not openly endorsed him, former ELN and FARC leaders have announced their support for Petro (Ref1, Ref2).
Forecast
While trying to forecast the result of the presidential election is at this point a futile effort, we can anticipate an increased risk of terrorist attacks, especially in areas where there's abundant evidence of operational capabilities on behalf of the guerrillas ―as mentioned, Norte de Santander, Antioquia, Santander, Cauca, Arauca, Meta, and Caquetá.
Areas with an even greater risk of terrorist attacks are those in which Hernández appears to be stronger in voter intention, and where the guerrillas have previously conducted numerous attacks, such as Cúcuta in Norte de Santander, Antioquia, and Meta.
The dates to be most cautious on are a couple of days before and after June 19 (election day), as there are indicators of potential protests that may turn violent, such as the warning disseminated on social media from Primera Linea in Medellin, announcing major protest actions if Petro does not win the election (ref).
---
By Luis Campos Perez, Editor in Chief – Americas Desk at Hozint – Horizon Intelligence