On October 1, the campaign group 'Enough is Enough' called for a National Day of Action in the United Kingdom, against rising energy prices. 300,000 people have signed up so far. This is one of the actions planned in the UK throughout the autumn against the increasing cost of living. On October 19, Trade Union Congress (TUC) scheduled a rally in London against this issue. Moreover, by October 1, the 'Don't Pay' movement aims to organize a strike of 1 million UK customers to not pay energy bills.
Since June, protests against the high cost of living have been occurring in the UK. On June 18, a TUC rally was held at Portland Place London with 40,000 people in attendance. In July, multiple slow-moving convoys disrupted traffic on key highways. On August 17 and 26, an 'Enough is Enough' rally gathered around 1500 people in Clapham, South London. On August 26, the Don't Pay campaign organized a demonstration at the Office of Gas and Electricity Markets (OFGEM) Headquarters in London. These smaller protests are geared towards gathering support, in the form of participation or pledges to not pay bills, for larger actions in October.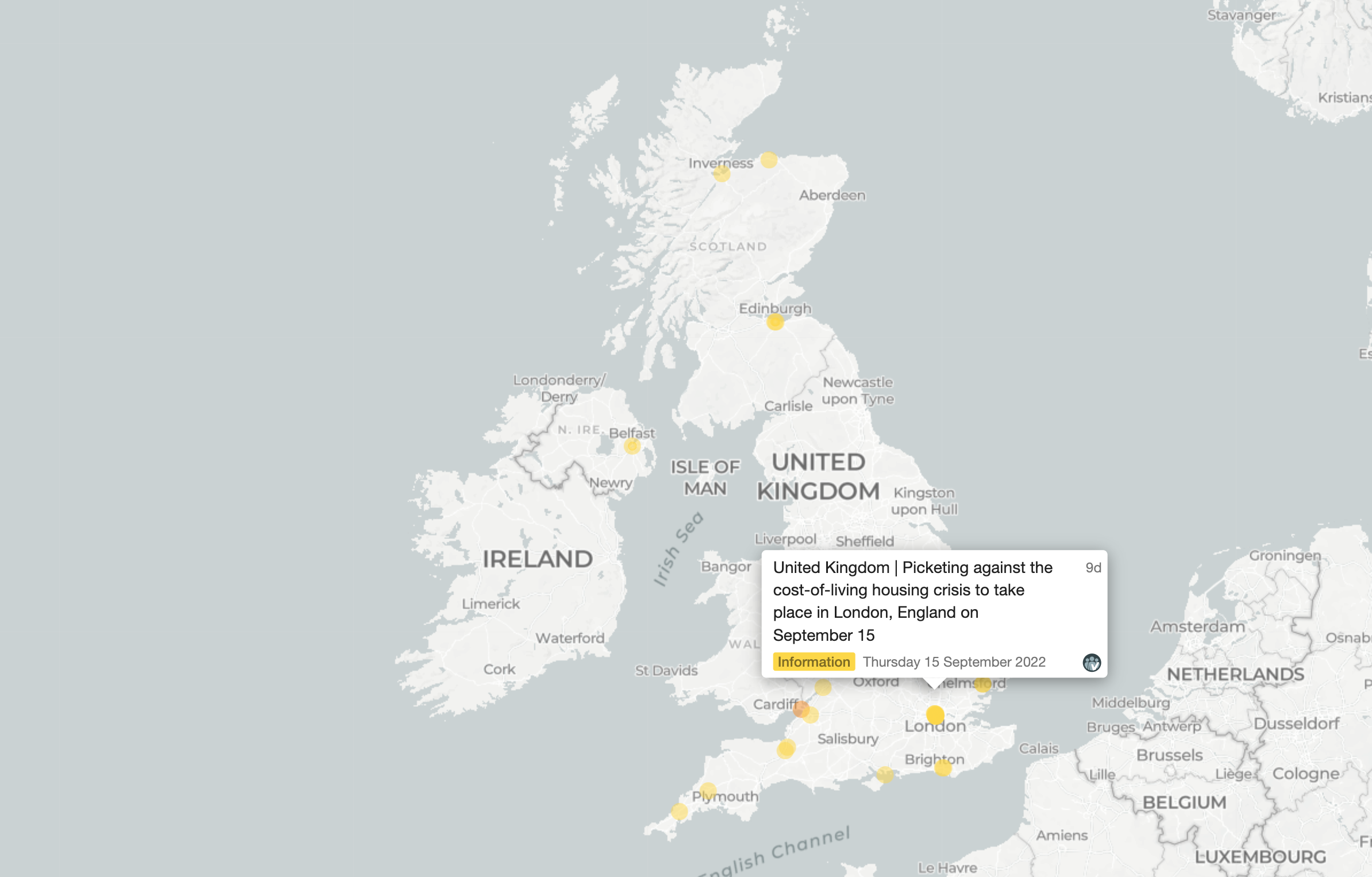 Analysis
Energy prices have been rising in the UK and Europe, following the Russian invasion of Ukraine. However, the upcoming cost of living protests in the UK was sparked when OFGEM announced an energy price cap increase from October 1 onwards. The price cap increased to an average of 3549 GBP per year, 80% higher than the price cap announced in April.
The ongoing and upcoming demonstrations must also be seen in the context of "The Summer of Discontent". There have been a number of inflation and cost-of-living-related protests, as wage increases have not kept up with inflation. Since June, railway workers have taken nationwide strike action. Workers' protests have coincided with climate demonstrations, with climate organizers like Just Stop Oil and Extinction Rebellion linking the two causes.
The Don't Pay campaign is primarily driven via social media, whereas 'Enough is Enough' and TUC use social media but rely more on union organizing. All 3 of these campaigns are endorsed by Members of Parliament from the Labour Party and senior union leaders. Therefore, these campaigns are decentralized via social media, but political and union backing lends them legitimacy, unity, and structure. A combination of decentralization and legitimacy is effective in recruiting more people.
Some people planning on protesting, or who have pledged to not pay bills, may be discouraged after the announcement of government relief programs. Each household will be granted a 400 GBP energy grant over 6 months from October 1 onwards. 8 million households will be eligible for a 650 GBP one-off payment to help them with costs. In total, the government has announced a 15 billion GBP package in total to tackle the cost-of-living crisis.
The transport and logistics sector has been most affected by the cost-of-living demonstrations. Slow-moving convoys disrupt traffic on highways, and rallies organized in major cities have led to road closures along the protest sites and routes. Railway and bus strikes, also related to cost-of-living, have also paralyzed the UK's transport sector since June. Firms in the oil and gas sector are also major stakeholders, although so far, the smaller actions have not had much concrete effect on these firms. However, in response to protests, Former Chancellor Rishi Sunak also announced a 25% windfall tax on the profits of oil and gas companies.
Forecast
Despite the government package, the scheduled protests will likely continue. The announced package involves short-term relief, without addressing the long-term solutions which the campaigns are demanding.
Small/medium enterprises will likely be worst hit due to energy costs, causing a negative effect on livelihoods and a higher burden on social security. These factors make it very likely that large-scale demonstrations planned by TUC and Enough is Enough will occur in October. Smaller actions will likely occur through September as well. So far, around 129,317 people have signed the Don't Pay pledge. According to the organizers, the mass non-payment of bills will occur only if at least 1 million people sign up. It is unlikely for around 900,000 people to sign up in 1 month, despite support from unions and politicians.
Due to Russia's ongoing invasion of Ukraine, the energy supply shortage will very likely continue to cause rising inflation. The provision of essential goods and services is likely to be affected. If large protests and mass non-payment of bills occur, the UK's stock market and economic outlook will be negatively affected. Due to such macroeconomic effects, it is possible several sectors of the economy will be affected. Strikes in multiple sectors will possibly occur, depending on coordination between different campaigns. Transport sector workers, dock workers, postal workers, nurses, garbage collectors, and barristers have already conducted strike action.
Transport disruptions will very likely continue through slow-moving convoys and road closures due to demonstrations. Given the pattern of demonstrations since June, London will be a hub for protests as many energy companies and government agencies' HQs are located there. Major cities, like Manchester, Birmingham, and Liverpool, are also likely to be targeted. There were already instances of cost-of-living protests occurring in Ireland, Germany, and Spain, so large-scale protests in the UK may spark further actions in European countries as well.
---
By Mihir Vikrant Kaulgud, Risk Intelligence Analyst at Hozint – Horizon Intelligence